Relief came when the family were offered a council house in Acocks Green and the boys transferred to the local school in Westley Road where their parents had attended many years before. As it turned out, it was a timely move because Tony had been expelled from the Catholic school due to an incident in the bike shed with Sheila Box. Her little boyfriend, Joe Quinn, had caught them and a fight broke out. Even then at the tender age of seven, Tony showed what his dad called a 'healthy interest' in the opposite sex, an interest that led him into trouble many times over the years. Harry, on the other hand, was a quiet lad. Studious and attentive, he did well at school and also joined the Sea Cadets which helped to bring him out of his shell somewhat, paving the way to a desire to join the navy when he was old enough. Their education continued at Sparkhill Commercial but, even there, Tony could not keep out of mischief. In woodwork class, he would play the fool; silly things like juggling chisels until one dropped, embedding itself in the foot of the woodwork teacher. Mr Williams was not amused, laying into Tony with the usual punishment of backside lashings with a slipper before being driven to hospital by Bomber Burrell, another teacher. He was often hauled before Mr Toye the headmaster, a man with a severe drink problem, who relished his authority over the school, wielding a bamboo cane with precision and some force.
Harry, third from left, with army buddies.
On leaving college, Harry took a job with Ward End Timber, cutting giant logs into planks and other associated tasks. Although he loved the job, he was only marking time before fulfilling his ambition to join the navy. Unfortunately, he failed the entrance exam so he did the next best thing and joined the army, serving in the RA for six years, being demobbed last August. Service discipline had hardened Harry somewhat, broadening his outlook and strengthening his character, but he did not lose his gentle manner. He then returned to the timber business, becoming yard manager shortly afterwards. He has also started to take an interest in his fathers second-hand car activities, helping out in the evening and at weekends. Colin is hoping that Harry will become a partner and carry on with the business in later years. Harry retained his interest in the Sea Scouts, being an instructor at the local SCC training ship Stirling. He has no long-term relationship; his lovelife could be termed as almost non-existent. He dates occasionally when the mood takes him but, having only recently been demobbed, he feels that he wants to settle down to everyday civvy life before getting romantically involved. Tony jokes about Harry being gay.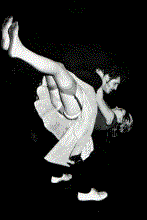 Tony struts his stuff at the Locarno
Tony, on the other hand, was unsure of what he would do with his life and flitted from one office job to another, losing two of them through poor timekeeping and another because of accusations of sexual harassment from several girls in his department. His last employment was with an engineering firm in Sheldon which has now been terminated due to his proposed absence for a long vacation. He is a 'townie', rarely seeking local entertainment but frequently dancing at the Locarno, the Tower and other city venues. Quite an accomplished dancer, his rock n roll dancing a sure bird-puller especially when dressed in his teddy boy gear complete with brothel creepers. Favourite pub must be the Warwick Castle on Gosta Green which seems odd considering there are two perfectly good drinking places, the Dolphin and the Mermaid, local to his home. He also helps out at the Sea Cadets when it suits him.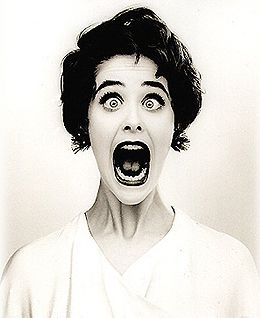 Val throws another tantrum!
Valerie could not be described as gentle. From an early age, she learned how to manipulate her parents into complying with her demands for attention and favours. She mastered the art of tantrum-throwing and melodramatics to a degree that assures her of getting her own way every time. Attending the same secondary school as her brothers, she went on to take a hairdressing and beauty course at the Birmingham College of Food, Domestic Art and Design in Summer Row. After two years at the college, Valerie became unsettled, deciding to go to University to continue her academic education. She'd had a succession of boyfriends of whom she quickly tired and dropped - her temper and floor-stamping fits, no doubt, contributing to other severed relationships. Being awarded a place at Manchester University, her parents hoped that, being away from home and having to fend for herself, she would mellow and accept that there were, indeed, other persons on this planet apart from herself. After less than one year, she has now abandoned her educational ambitions, walking out of university and returning home on the pretext that she was pregnant, subsequently proven to be false. Valerie is not a bad girl. She is, at times, very considerate and has welcomed the unfortunate girl Flossie with open arms. She seems, at last, to be developing into a fine young woman; not yet, however, ready for marriage or even a long-term relationship. With her mother wanting to go to Canada and father with his sights on the USA, Valerie is chewing over her next move. Australia is favourite at the moment - well, why not? Those hunky sheep sha.... er... shearers she'd seen in the Woman magazine were a great attraction to any fertile female. Although, Tony had cynically remarked that she'd get short shrift from the male-chauvinists in Kangarooland, who continually drink a beer named Castlemaine, calling it XXXX because they can't spell 'p*ss'.
The music is 'Even the Bad Times are Good' by The Tremeloes