Manager Steve Bruce and Assistant Mark Bowen discuss team tactics prior to the game, showing concern that no-one had turned up to watch the match. Could it be that the regular supporters had sensed the outcome? Or had they heard that Trevor had travelled over from the USA and was looking for old acquaintances who owed him money?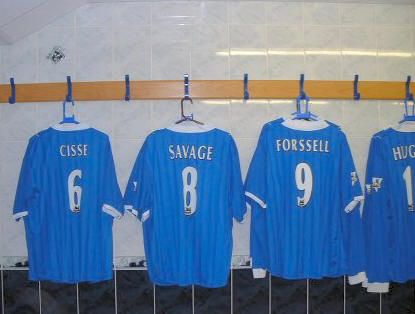 The players' dressing room was also deserted. It was suggested that Robbie Savage had taken a few of his old mates at Leicester out for a bevy and to meet their Spanish girlfriends.
A hurried press conference was convened at which left-winger Stan Lazaridis nervously tries to explain the players' disappearance, insisting that he and goalkeeper Maik Taylor will be more than enough to thwart the Foxes weakened team. The onlookers did not seem to be completely convinced.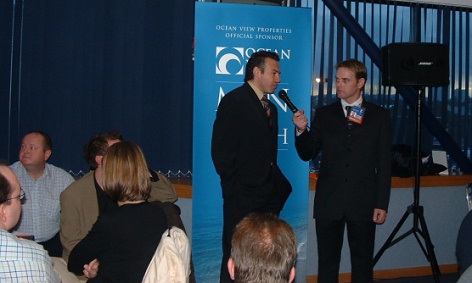 In an after-dinner speech, porn king David Sullivan broke the news that the club had plans to move the ground to a rural setting in the near future. Although the stand had not yet been erected, the pitch had been laid out. He explained that the new surface would be conducive to the team's undulating performances.
Fellow pornographer, Chairman David Gold had supplied every guest with a copy of one of his newspapers and a table cracker containing an item from the Ann Summers' sex-aid catalogue (another of his thriving businesses). These ranged from diaphanous panties to mini vibrators. The entrepreneur took great pleasure in relating the story of how he became involved with the club. He had been a lifelong supporter of West Ham United and bought 30% of their shares but, not being able to buy more for a controlling interest, he sold out and looked further afield to satisfy his burning ambition to become a Football League club chairman. Then, in 1992-93, the prospect of buying controlling shares in Birmingham arose. That was a real challenge, he recalled. "We went up there to have a look at it and the place was crumbling. The business was in a terrible state and the ground was falling apart. We were shocked at how run-down it was, but David Sullivan and I both saw it as a challenge. It became all-consuming. We brought Karren Brady in as managing director, who has been fantastic. We desperately wanted to get out of the first division and into the Premiership. Barry Fry came to see us, putting himself forward for the managers job and said: 'Ill get you out of this poxy division'. To be fair to him, he did. We were relegated at the end of that season!" He paused as the guests roared with laughter at that remark, before continuing.
"But we didnt give up hope not for one minute. We believed that the club would make it. What we saw at Birmingham was the phoenix rising from the ashes; the most extraordinary change imaginable, culminating in promotion to the Premiership at the end of the 2001-2002 season."
When it comes to football, the normally hard-nosed businessman becomes like an excited schoolboy.
"I love it" he says "I want it to go on forever!"